Have any questions ? Don't hesitate to call! 928.774.8995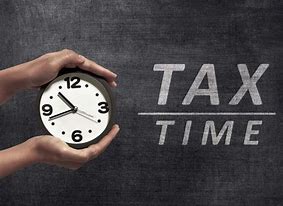 ---
When do we need to come in for taxes?
The two biggest deadlines are April 15th (for individual taxes) and March 15th for corporate and partnership deadlines. But don't worry! "Extension" is not a dirty word! (or at least…. we don't think of it that way!).  Contact us for any questions on filing extensions and tax deadlines.
Please use the link below to send anything you would like. This is safe and secure and password protected!
Click here to upload secure files to ShareFile!
We offer an online tax preparation you can do yourself through Drake Software. It's the same program that we use here in our office!  
---
Do you offer tax planning?
We love to tax plan prior to December 31st (anytime after is just not enough time!!). Call for your appointment today!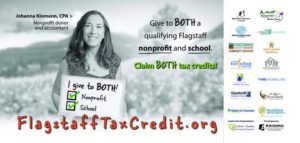 ---
Support our Arizona Tax Credits!
https://aztaxcreditfunds.com/#jklomann
To learn more about Arizona tax credits!  These are a great way to direct where you want your state tax dollars to go.   If you make a donation through this link it will go to the Arizona Tuition Connection and they will allocate the funds.  Otherwise be sure to click on the complete list link to choose local Northern Arizona nonprofits!
Military  Family Relief Fund

Available through 2020 is the
Arizona Military Family Relief Fund credit. This
credit, unlike the others, cannot carry forward and is
available only to taxpayers receiving a receipt letter from
JFRF. For more information and the donor form click on
the following link https://dvs.az.gov/military-family-relief-fund-2020
Maximum
Credit


Unmarried

 

Married
Filing Joint


Public Schools
Credit

$200

 

$400

Private School Tuition
Credit

$1,183

 

$2,365

Credit for Qualifying Charitable Organizations

$400

 

$800

Credit for Foster
Care

$500

 

$1000

Military Family Relief
Fund

$200

 

$400

Total Possible
Credit

$2,483

 

$4,965
Beginning on January 1st 2020, the standard mileage rates for the use of a car (also vans, pickups or panel trucks) will be: mileage rates for 2021 have not been released….
2020
58 cents per mile for business miles driven
17 cents per mile driven for medical or moving purposes
14 cents per mile driven in service of charitable organizations
Please visit 2020 EITC Income Limits and Credits
https://www.irs.gov/newsroom/irs-issues-standard-mileage-rates-for-2020